CEREC® Training With Our Professional Staff
---
Dr. Fred A. Puccio is a Certified Patterson Dental CEREC Advanced Trainer.
With over 20 years of clinical experience, he placed thousands of successful CEREC restorations in his practice. Dr. Puccio is one of the select dentists who can place esthetic, predictable, long lasting Cerec restorations in under an hour, consistently in his practice. His experience with Cerec restorations include Crowns, Onlays, Veneers, Emax Implant Abutments and Crowns, Cerec connect, Emax bridge milling, and Full mouth smile make overs. He is a genuine leader, committed to offering the highest quality of care for his patients. The office is a state of the art facility that brings modern dentistry to a new level.
Dr. Puccio remains dedicated to teaching other dentists how they may experience the benefits of incorporating CEREC technology in their practice in terms of their patients and their own careers. The Center for Success in Dentistry is an advanced CEREC training facility located at his two office locations. All aspects of clinical and administrative CEREC dentistry are a part of his curriculum when training dentists, whether it is advanced or basic. Part of his CEREC clinical training include demos featuring a live patient in order to allow participants to learn his secrets for success. His close working relationship with Patterson Dental and his vast CEREC experience is the reason why he is regarded to be an excellent trainer. Dr. Puccio would be delighted to discuss further with you on the benefits of building a CEREC practice and how it would propel your practice into the top 1%.
---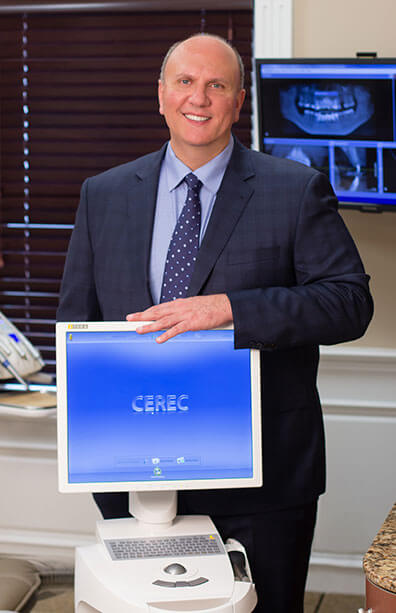 ---
Dr. Puccio would be delighted to speak with you further on the benefits of building your practice with CEREC technology. You can view upcoming CEREC events on Dr. Puccio's dedicated CEREC training website, www.cereclivetraining.com. Please feel free to contact him at his office by calling 201-485-8847 or 973-340-4484, or emailing him at FPuccio@midlandfamilydental.com
LIVE Training
---
The new user interface in the fourth software generation is finally here! It is without a doubt the ideal entry to the world of dental CAD/CAM. Let us help you become a Digital restorative Dentist using this exciting new software. Experienced users will particularly appreciate the option of designing several restorations in parallel.
Click Here For A Description Of Our LIVE Training